Eventually – My JNCIE-ENT Success!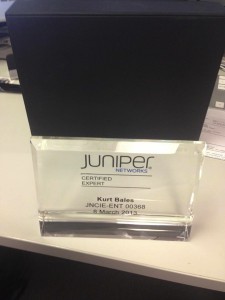 Finally… it was bound to happen. My three year journey is complete.
It was about this time last year that I posted about my second JNCIE-ENT lab attempt, and sadly it didn't go the way I wanted it to! Â Due to work commitments I was not going to be prepared to sit the 2012 Q3 round of lab offerings, so I resolved to sit the December / January round.
I picked up my studies again and worked on my weak areas noted during my first two attempts. I paid particular attention to areas of multicast and switch security as these two topics were areas of weakness for me last time. I was lucky enough to work on a project at the end of last year that included nearly 1000 ports of 802.1x with dynamic VLAN allocation, so that proved to be an excellent "lab environment" for me.
After a need to reschedule for March, as the January exams were cancelled in Sydney, I knew I was going to do everything in my control to pass this time around. I didn't want to face the thought of making attempt #4!
Long story short this time around I felt much more prepared and actually finished with more than enough time to go back through all of the questions to confirm the points I believed I had earned. I cannot say enough about good time management efforts during the lab. Set a maximum amount of time per question (or per point) and really make yourself stick to it. Unless you know you need this question to continue on to later questions, just leave it as it is (preferably in a non-broken state), and move on to other questions. Earn more points and come back later.
I finished up the exam reasonably confident, but I also knew I felt confident after attempt #2. I caught a train home and prepared myself for the 15 business day turn around for the exam results. Luckily I didn't have to way this long to get my results, and after a couple of days I was advised that I had passed!
I am now JNCIE-ENT #368… and Im very happy / relieved 😉
In previous posts Ive covered tips and tricks etc, so I would really like to dedicate this post to saying thanks to people.
All my thanks
First I would like to thank Liz Burns and everyone at the JNCP team. Thanks for all the work you guys have put in to making these exams and the encouragement you provided me over the past three years has been must appreciated.
All of my current and former co-workers. Thanks for the opportunities I was given to work on real life network environments and exposure to quirky designs. Also there is no end of thanks for putting up with me on all those days I had my cranky pants on
All of my current and former customers. Without your need for new networks, and not to mention some of the crazy requests you have thrown at me over the years, I wouldn't be able to get my head around some of the tricks of the lab.
Thanks to my friends at Juniper, most notably Francois Prowse, Ashton Bothman and Doug Hanks. Again thanks for the encouragement and the kick in the butt I needed not to give up. Many people from within Juniper were invaluable in answering many of the problems I ran into while studying.
To everyone on #juniper over on Freenode. Much appreciation for your advice… "hrmpf"
To Chris Jones and the guys at Proteus Networks. I was lucky enough to be performing "Technical Editing" duties on the new Proteus JNCIE-ENT Preparation Workbook (which was obviously pre-release at the time). As part of this I labbed almost every scenario from the workbooks to ensure they were correct and the descriptions matched. I cannot recommend this guide enough to people studying for the JNCIE-ENT, and I plan to do a separate review in the near future.
To "The Wolfpack". ARRRROOOOOOOOOOOOO! You know who you are, thank you for allowing me to "de-stress" and express myself in some pretty non-conventional ways 🙂
Last but not least, to my wife Belinda. Thanks for all the love (and feeding) during this journey. You suffered more of the cranky pants than anyone else, and yet you still encouraged me to keep going. Love you heaps 🙂